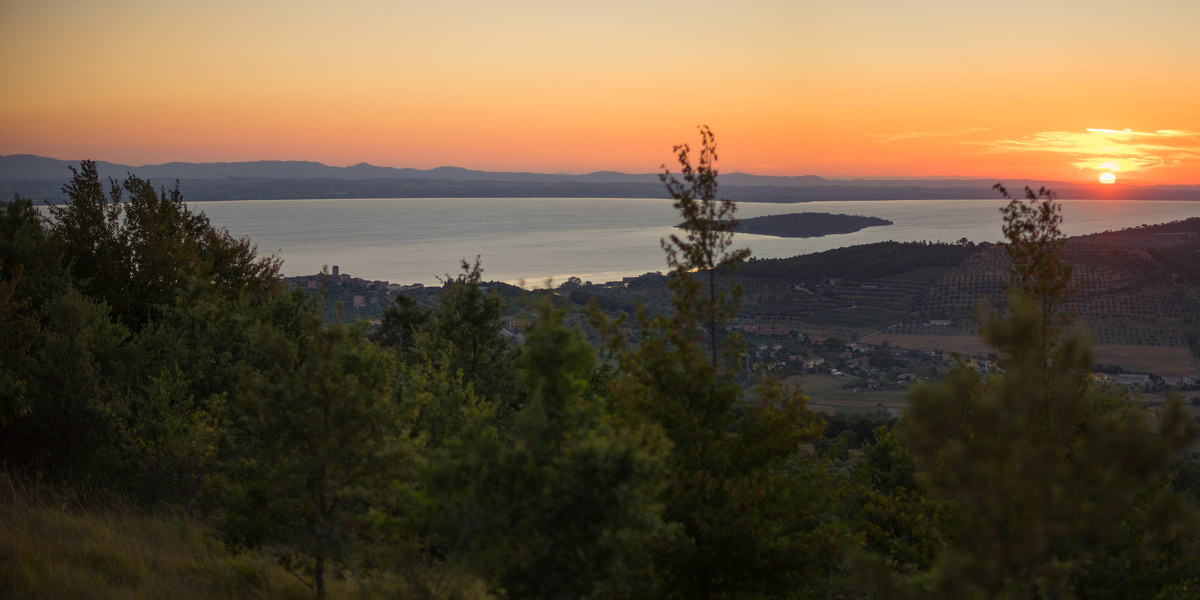 An emotional sunset
Date and Time:
July 25, 2020 4:30 pm - 9:30 pm
About The Events
A summer tour on the eastern hills of the lake which departs from one of the most charming villages in the late afternoon for a unique and adventurous nigh-time walk back, for the full enjoyment Lake Trasimeno's incredible sunset, recognized as one of the most beautiful in Italy for its outstanding colors and reflections. A hike to the top of the hills, reaching one of the most panoramic sites in time for the outstanding sunset view while immersed in peace, silence and nature.
Suited for: all, children of 8-10 years old and above (used to walking and to the outdoors)
Duration: 5 hours (including rest-stops), late-afternoon and evening activity with self-packed dinner
Difficulty: medium
Lenght: 12 km
Elevation: 350 m
Type of itinerary: ring-road, paths (20%), countryside roads (75%), asphalt (5%)
Departure and arrival: San Savino (Magione)
Highlights: sunset, sceneries, medieval villages
Equipment: hiking shoes (avoid open shoes or sneakers); comfortable clothes according to season; hat; backpack with water (at least 1.5 liters per person), snack, rain jacket/umbrella/poncho, torch, sun protection in spring and summer.
Excursion with a professional guide
---
In case of rain or bad weather, all activities will be cancelled: we will charge you with the cost of the ticket only when we are able to confirm this activity. An e-mail will inform you when the transaction has come through.
For specific needs or for private activities with dedicated guide please email info@hylagroup.net
_